Why Buy Amazon Stock and When to Buy It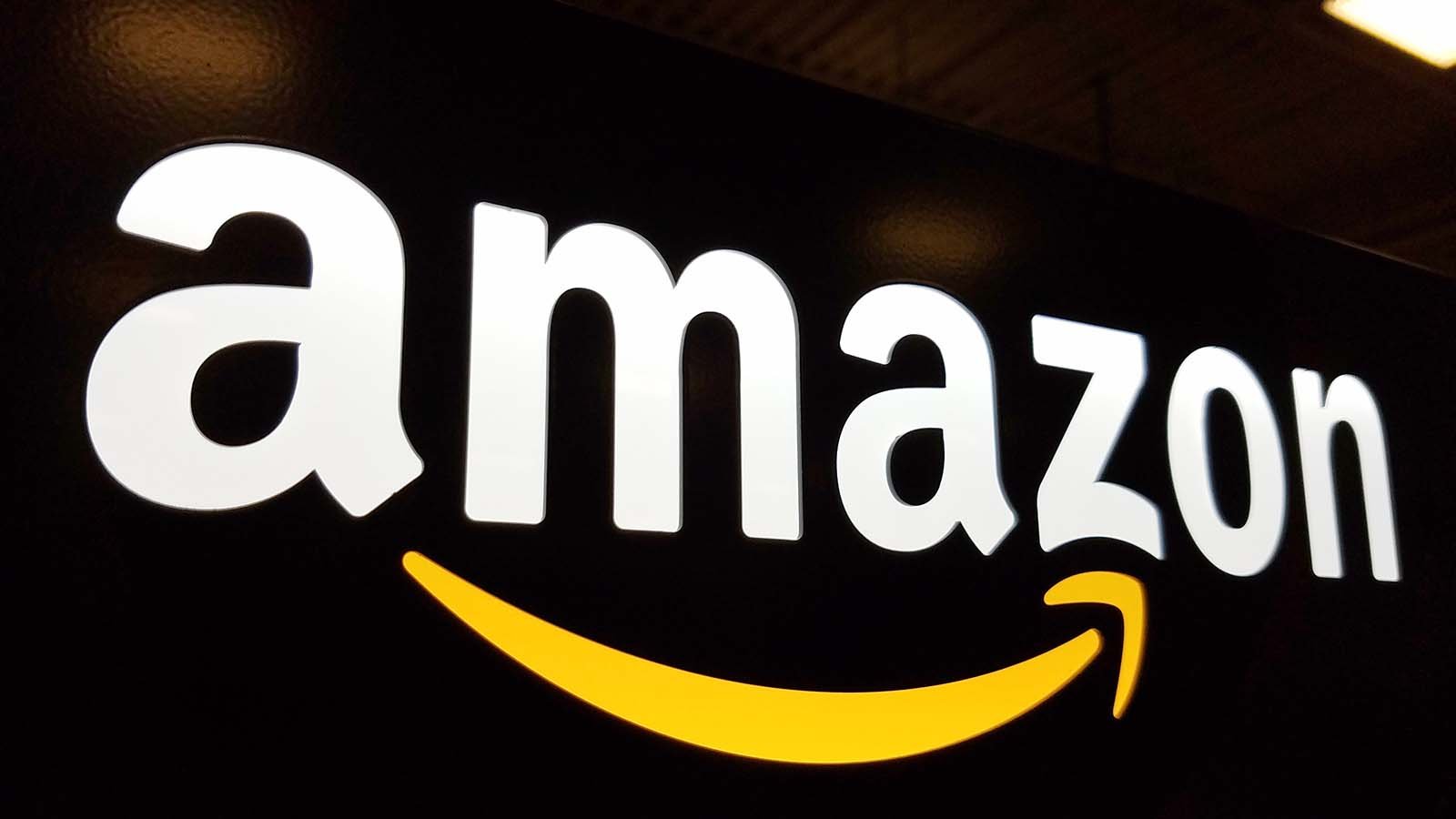 Uncertainty aside, some important resolutions made in early 2021 bode well for Amazon (NASDAQ:AMZN). Let's explore what's happening off and on the price chart, as well as an aligned risk-adjusted determination to provide a more successful Amazon stock purchase decision.
Nobody can argue Covid-19 hasn't been good for business when it comes to Amazon. From delivering essential and non-essential goods safely to customers' doorsteps, streaming entertainment from Prime or the company's Amazon Web Services unit, the company has thrived, not survived the pandemic. This past week's growth-filled, street beating earnings report and issuance of above-views sales guidance is the latest proof of AMZN's tenacious and critical wherewithal.
It would also be a losing proposition to suggest Jeff Bezos has been anything less than one of the all-time great CEO's. He turned Amazon from an online bookseller out of a garage when 'the worldwide web' was new, and and launched it into a diversified $1.6 trillion technology behemoth in just over 25 years.
So, should a post-Covid-19 world or one without Bezos acting as Amazon's Commander-in-Chief worry investors? Apparently both uncertainties have investors on edge to a certain extent.
With roughly 10% of the U.S. population now vaccinated with first shots and slow reopening across the country, it might appear the rearview mirror for the pandemic is nearby. But that's not the demise of Amazon. Besides, herd immunity or otherwise, AMZN will continue to grow.
Bottom-line, Amazon's largeness and our dependency on its services isn't going away. Amazon was already trending strongly in our lives before Covid. The pandemic has only reinforced those habits. Whether we like it or not, AMZN is firing on all cylinders and in a terrific position to continue that trend.
Bezos Steps Down
But what about Amazon's helm? To be sure, a new CEO is most always a time when uncertainty will rear its head. And Amazon stock unsurprisingly failed to see Wall Street rolling out the welcome mat with word of this pending change.
The departure announced alongside earnings played a key role in investors quickly erasing the entirety of AMZN's pre-earnings bid. But this key resolution and placement of longtime insider Andy Jassy is as close to a Bezos clone as investors could hope for. In fact, Jassy's vision and leadership was responsible for taking AWS from an idea to today's $51 billion run-rate monster. So breathe easier. And besides, Bezos' stepping down is anything but your typical retirement.
As executive chairman, Bezos has promised to remain involved in the company's early-stage initiatives. Sure, by most people's standards he'll have his hands full with other passion projects such as Blue Origin and the Bezos Earth Fund. But at the end of the day, those notorious detail-oriented and very hands-on hands will assuredly be instrumental in guiding Amazon to ever larger success.
Amazon Stock Monthly Price Chart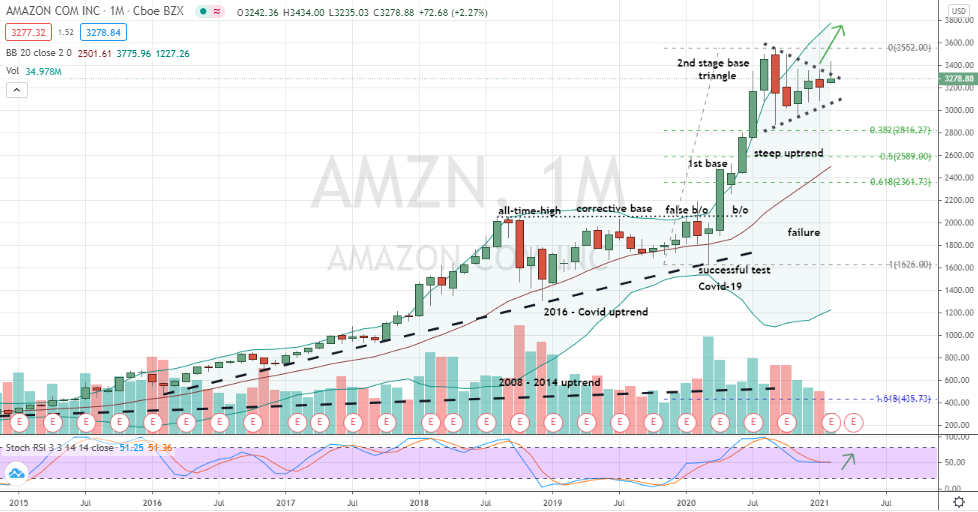 Source: Charts by TradingView
Another resolution out of uncertainty this year (sort of) is the price chart of Amazon stock. As the illustrated monthly chart shows, February's stock action briefly took AMZN shares out of a second-stage triangle base before pulling back inside the well-built congestion area.
An unobstructed rally out of the triangle for those long or buying the breakout would have been nice. And understandably so. Still, often it's those second chance opportunities which prove to be the enormously big winners for investors. With Amazon stock's stochastics flattened in neutral territory and on the cusp of a bullish crossover, the observation is this type of very bullish occasion is nearby.
For the moment, the recommendation is for investors to simply watch Amazon for a price reaction back through pattern resistance accompanied by a bullish stochastics signal. If you do find yourself in it to win it, a fully-hedged, adjustable Amazon stock collar to profit and not panic through the best and worst of times that lay ahead, is always a standout favorite.
On the date of publication, Chris Tyler does not hold, directly or indirectly, any positions in securities mentioned in this article.
Chris Tyler is a former floor-based, derivatives market maker on the American and Pacific exchanges. The information offered is based on his professional experience but strictly intended for educational purposes only. Any use of this information is 100%  the responsibility of the individual. For additional market insights and related musings, follow Chris on Twitter @Options_CAT and StockTwits.

View more information: https://investorplace.com/2021/02/why-buy-amazon-stock-and-when-to-buy-it/