Why Bitcoin Is Better Than Bonds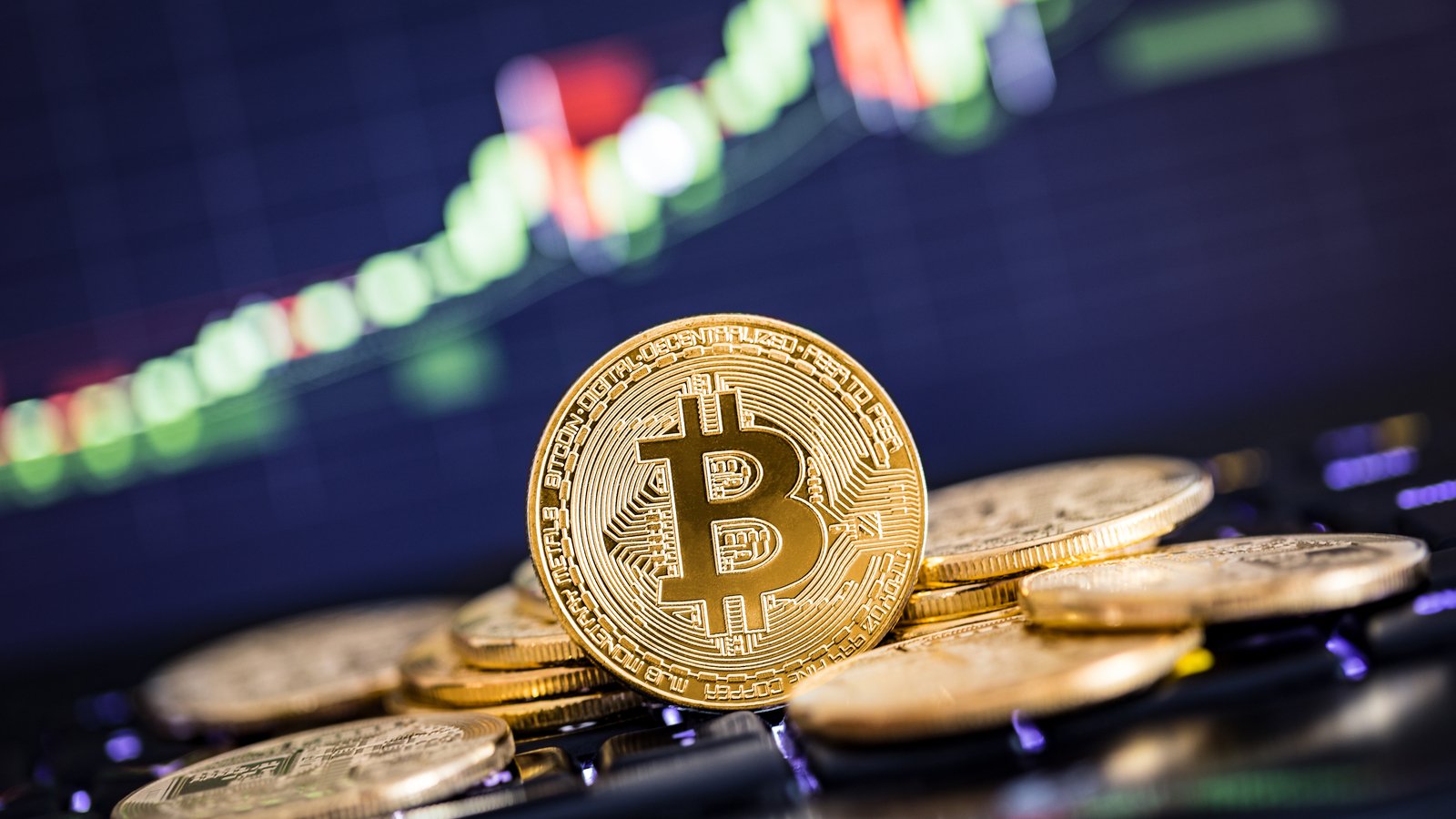 Most don't have the kahunas to suggest Bitcoin (CCC:BTC-USD) may replace bonds. Then again, most aren't Cathie Wood. And while she's not E.F. Hutton just yet, these days when Cathie talks, investors rightfully need to more than just listen.
Let me explain.
It's been a tough week for most all risk assets of all stripes. Well, at least those that have done the leadership thing and provided ginormous growth and well-above-the market returns for investors over the past year.
Tesla (NASDAQ:TSLA). Square (NYSE:SQ). Teladoc (NYSE:TDOC). They're among the market's top growth stocks which have taken it on the chin the past few sessions. And it's fair to include BTC, given its losses on the week and as the de facto cryptocurrency in a massive market barely in the first inning of play.
Through Thursday's close and while the broad-based S&P 500 has corrected as much as 3.3%, TSLA, SQ and TDOC are still seeing losses of 13% to 22% as the risk-off trade continues to rear its ugly head. And BTC, vis-à-vis its publicly-listed proxy Grayscale Bitcoin Trust (OTCMKTS:GBTC), is right up there with the best of them in shedding roughly 19.50%.
Scary, right? But is it time to fan the flames of this shift in market sentiment and flee to the relative safety of bonds? Not so fast says Cathie Wood. In a Bloomberg interview Thursday, Wood stated, despite this week's losses, she sees BTC as a new safe haven trade for investors. What!! And Who!!
A New Safe Haven?
Wood is the founder and CEO of the ARK Invest family of funds. The firm's $17 billion flagship product ARK Innovation ETF (NYSEARCA:ARKK) returned roughly 150% in 2020 on the back of the aggressive and ahead-of-the-curve positioning in the aforementioned companies and other diverse growth leadership. Moreover, Cathie's steely grit and vision for investing includes being an outspoken and heavily vested proponent of BTC whose commitment today stands at more than 7 million shares of GBTC.
Digging a bit deeper into the interview, Wood proffered BTC could reasonably act as a reserve currency in the future. "You think about the traditional 60/40 stock-bond portfolio, but look what's happening to bonds right now," she said. "If we are ending a 40-year secular decline in interest rates, that asset class has done its thing."
Wood went on to say, "companies like Tesla and MassMutual are using Bitcoin as a hedge against what could go wrong. Cash is supposed to be the ultimate risk-off asset of choice and here we have Bitcoin serving that."
Lastly, the ARK CEO disagrees with BTC critics who maintain the crypto has no uses. She argues the crypto represents insurance against unhinged monetary policy and even wealth segregation, which adds up to trillions of dollars of market cap beyond today's $900 billion to $950 billion.
Bitcoin Weekly Price Chart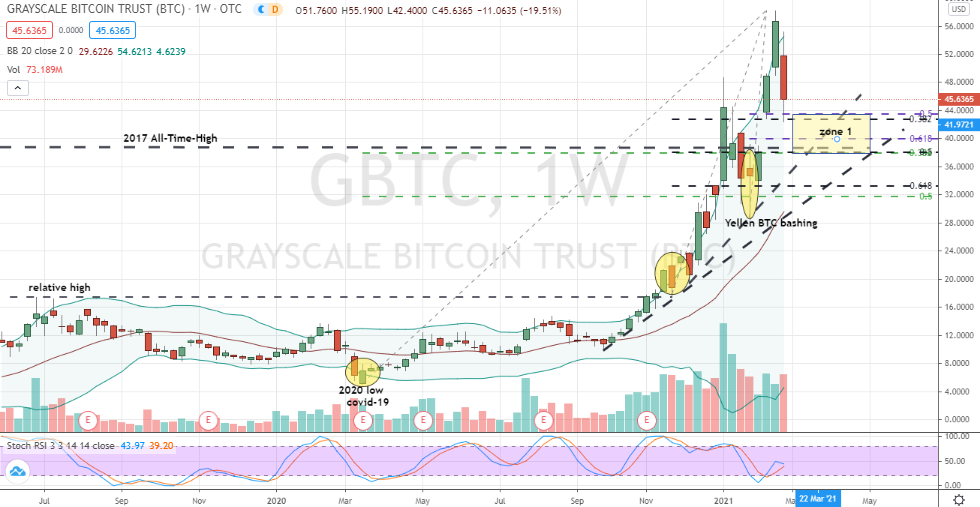 Source: Charts by TradingView
Yup. Wood has her views on Bitcoin. And similar to days past when investors paid close attention to broker E.F. Hutton's streetwise advice, it's time to respect what Cathie says. Better yet, realize it pays to do as Cathie does. Well, kinda sorta.
Technically speaking and based on what the GBTC price chart is telling us, investors may want to tip-toe into Bitcoin and accumulate shares on near-term weakness, which may not yet be finished. Bottom-line, all stocks correct. Even the best. And when it's leadership like BTC and volatility is a certain factor, corrections of 30% should be expected. And that's in the best of times.
Currently BTC, using GBTC as a proxy, has corrected as much as 27% at Tuesday's low. It's close to the classic 30% level. That's not all Bitcoin bulls have working in their favor, either.
Shares have also tested the upper boundary of a very well-supported, but volatile support zone. As the weekly chart reflects using Fibonacci and trend line analysis, GBTC should find a low within its uptrend in-between $38 to $43.
Together and coupled with a a bullish stochastics crossover which followed a 'Yellen-inspired' plunge in Bitcoin, starting a longer-term campaign of accumulating BTC on weakness makes sense today.
On the date of publication, Chris Tyler holds, directly or indirectly, positions Grayscale Bitcoin Trust (GBTC), but no other securities mentioned in this article.
Chris Tyler is a former floor-based, derivatives market maker on the American and Pacific exchanges. The information offered is based on his professional experience but strictly intended for educational purposes only. Any use of this information is 100%  the responsibility of the individual. For additional market insights and related musings, follow Chris on Twitter @Options_CAT and StockTwits.

View more information: https://investorplace.com/2021/02/why-bitcoin-is-better-than-bonds/