This Tesla Stock Dip Is a Gift Just Waiting to Be Bought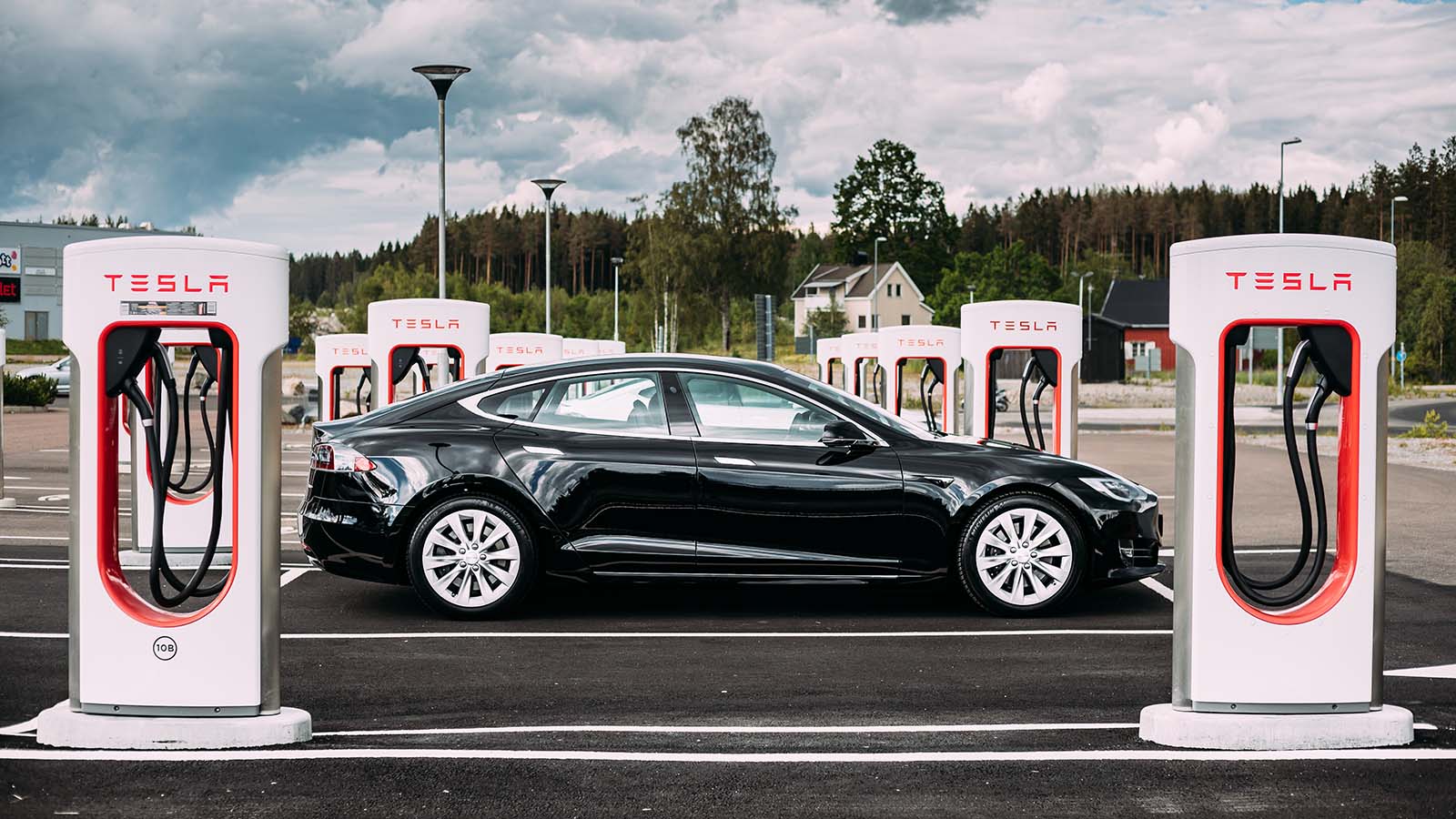 Shares of electric vehicle maker Tesla (NASDAQ:TSLA) have taken off like a rocket ship over the past year. At the start of 2020, this was a $90 stock. Recently, the TSLA stock price peaked at $900. In essence, then, Tesla stock has increased by 10X in just 14 months.
That's an enormous rally.
If you missed out on these explosive gains, don't worry. Because over the past few weeks, TSLA stock has shed about 15% on concerns over rising interest rates pressuring equity valuations.
These concerns are ephemeral and overstated. At the same time, the fundamentals underlying Tesla's automotive and energy businesses are only getting better by the day.
To that end, this dip in TSLA is a gift. Use it to buy the dip.
Here's a deeper look.
Rising Rates Headwind Is Temporary
The recent rising in interest rates — the 10-Year Treasury yield has pushed above 1.3%, from 1.1% at the start of the month — is something to watch closely. But its impact on the market is both ephemeral and overstated.
Rates are pushing higher right now because of huge fiscal and monetary stimulus. That inflationary force will continue for the foreseeable future. But it's simultaneously fighting against much bigger, more enduring deflationary forces in automation and globalization.
That is, automated technology is capable of replacing millions of jobs today. Think language processing software automating call-centers and customer service reps. Think self-check-out kiosks automating cashiers. Think telehealth platforms automating the hospital front desk.
Technology has advanced to the point of being ready to replace millions of jobs. At the same time, thanks to Covid-19, more and more enterprises are comfortable with adopting these technologies. The result is that, over the next few years, we are going to see huge and permanent job loss in some sectors of the economy.
That's an enormous deflationary force.
Equally as powerful is globalization, as the global geopolitical stage is now set for globalization to come back into the spotlight and for companies to more aggressively outsource labor and production – which will keep consumer prices low.
So, yes, the government is spending a bunch of money. But they almost have to spend a ton of money just to keep rates from going negative.
Long-term, we are stuck in a lower-for-longer situation when it comes to interest rates.
That's important, because while higher rates will hurt equity valuations, my numerical analysis of the relationship between interest rates and equity valuations dating back to the 1980s found that the 10-Year Treasury yield would have to rise to 2.5% before it started to have a meaningful impact on valuations.
News flash: That isn't going to happen anytime soon.
So, the recent weakness in the stock market is a buying opportunity — especially in high-quality growth stocks like Tesla.
Tesla's Fundamentals Are Improving
While the TSLA stock price has collapsed, the fundamentals underlying Tesla's business have only improved.
Let me explain with a little story …
No power. No water. Below freezing temperatures. 
These are the apocalyptic conditions that millions of people across Texas have had to endure over the past week, as unusually cold weather has laid waste to the state's electric grid. 
It's an awful situation. And it's not isolated.
We only have to go back a few months to late summer 2020 to see the last time this happened. That's when millions of folks in California lost power because of a heat wave across that state. 
Too hot. Too cold. Today's energy grid is like Goldilocks — the situation has to be just right, or it won't work. 
Unfortunately, climate change means that "just right" is becoming abnormal. Too hot and too cold will become more and more frequent going forward. This change in prevailing temperature conditions requires a change in our energy grid … else, blackouts will become commonplace.
What's the fix?
Tesla.
Tesla Is an Energy Company
You see… Tesla isn't a car company. It's an energy company. Tesla is figuring out to how harness clean energy and use to power the world.
One way is by making a new class of affordable, high-performance EVs. Another way is by installing solar panels. Yet another way is by creating a suite of energy storage solutions like the Powerwall.
Just think about it. If every home, apartment building, office, restaurant, and retail center in Texas had a Tesla Powerwall — which had, over the past several months, stored excess power and hosted it on-site for use on a "rainy day" — then no one would've lost power in February.
Indeed, in that world, no one loses power, anywhere, ever. Everyone is always powered.
This is the future. And Tesla is at the epicenter of this future as one of the two leading companies in the energy storage space. Further, the company should be able to leverage its branding power — everyone knows the Tesla name and brand (and importantly, trusts it), while other players in this space are far from household names — to remain one of the largest player in energy storage for the foreseeable future.
At the same time, the company should be able to lean into its technology, branding, and production advantages to remain the EV industry leader, while also leveraging its brand and tech to turn into a solar industry leader, too.
Big picture: The Tesla growth narrative is just getting. Growth momentum will accelerate over the next day. The TSLA stock price will power higher. See near-term dips in this long-term winner as buying opportunities.
Bottom Line on Tesla Stock
TSLA stock is one of the best long-term growth stocks in the market today. Long-term, it has huge upside potential.
But it's not the best growth stock to buy today.
Instead, the best growth stock to buy today is a company which reminds me of a young Amazon (NASDAQ:AMZN). Indeed, I think buying this stock today could be like buying AMZN stock back in 1997 — before it soared thousands of percent.
Which stock am I talking about?
Click here to find out.
P.S. If you've been following my work, you know I'm extremely bullish on innovation. And right now, we have rarely seen such opportune moments throughout history to invest in innovation.
While I have many stocks on my watch list that excite me, there's one stock in particular that I'm absolutely giddy about. And I'll be giving this stock pick away – for FREE – at my first-ever Exponential Growth Summit on Feb. 23, at 4 p.m. EST.
In anticipation of this event, I've included my free primer explaining exactly why I'm so excited about this stock – click here now to register and get your free report sent directly to your inbox.
Also, check out the video below for more insights into this one-of-a-kind event:
On the date of publication, Luke Lango did not have (either directly or indirectly) any positions in the securities mentioned in this article.
By uncovering early investments in hypergrowth industries, Luke Lango puts you on the ground-floor of world-changing megatrends. It's how his Daily 10X Report has averaged up to a ridiculous 100% return across all recommendations since launching last May. Click here to see how he does it.
View more information: https://investorplace.com/hypergrowthinvesting/2021/02/this-tesla-stock-dip-is-a-gift-just-waiting-to-be-bought/