This Company's Shares Will Keep Climbing as the 5G Build-Out Takes Off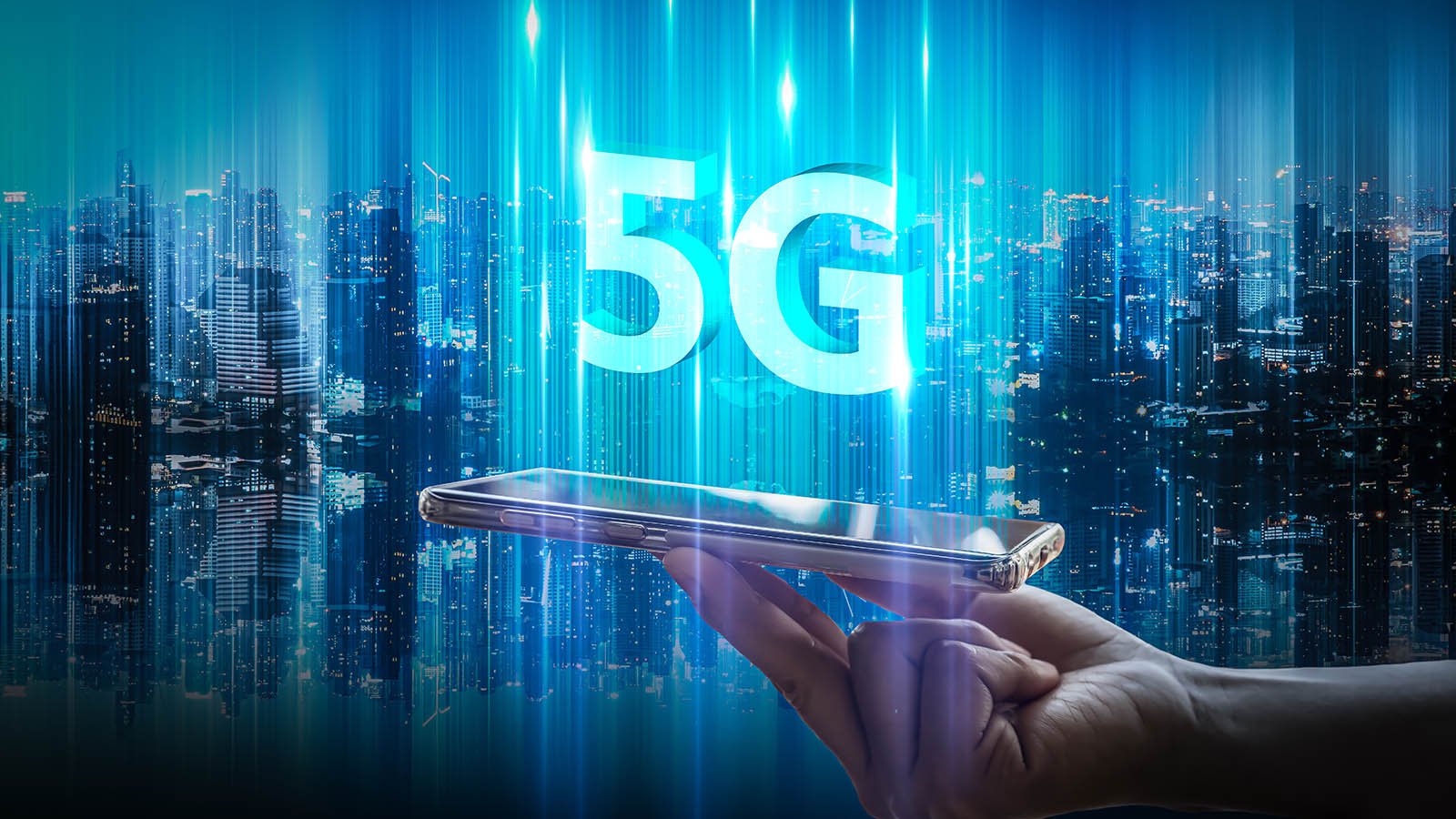 During the dot.com go-go years of 1999–2000, numerous companies were racing to deploy a cable network that would provide bandwidth for this new thing called "the internet."
Companies like Global Crossing, Williams Cos., Level 3 Communications and others spent billions of dollars to build out telecom infrastructure using the cable the company I want to tell you about today provided.
According to one tech research firm, telecom companies worldwide installed 48 million kilometers of this cable in 1998. That number jumped to 63 million kilometers in 1999… and soared to nearly 90 million in 2000.
As this rush gained momentum, one company in particular cashed in.
From September of 1998 to September of 2000, this company's shares skyrocketed more than 1,000% — which made it a true 10-bagger.
America's Top Stock Picker Reveals Next 1,000% Winner (Free)
But that was just about the time this boom peaked.
By 2002, worldwide installations had collapsed to 55 million kilometers… and this company's share price had collapsed as well.
Since then, "better late than never" accurately describes this company's financial odyssey. Like Odysseus himself, the company has spent many years "lost at sea."
But now, this company has embarked on a brand-new odyssey… and this one should take it on a long journey of robust profit growth.
And that's thanks to the 5G buildout…
From Boom to Bust… to Boom
As so often happens in the middle of a great, big boom, few market participants were able to recognize a bust-in-the-making.
As I pointed out in a December 2000 research report, the world's telcos had installed far more bandwidth capacity than the market could possibly absorb.
I argued that the resulting bandwidth glut would cause demand for this company's technology to tumble, which would hammer its profitability. Focusing on the looming threat to the company's income statement, my report stated:
However unknowable the future, the present is an open book. Current [bandwidth] supply greatly exceeds demand, as plummeting bandwidth prices testify… Telegeography reports that a 15-year transatlantic cable lease costing $15 million in 1997 would run only about $850,000 today…
Today's telcos are banking on the emergence of new bandwidth-hungry applications to soak up the vast quantities of new capacity coming online in the next two years…
Anticipating this large, but largely unquantifiable, demand, telcos big and small have adopted a build-it-and-they-will-come strategy. For example, peak transatlantic bandwidth capacity, which totaled 178 gigabits per second last year [1999], will expand to a titanic 4.9 terabits per second by the end of next year [2001]. In laymen's terms, this equates to a greater than 2,600% capacity increase over two years.
Therefore, even if demand increases 10-fold, as hoped, utilization of bandwidth capacity will actually plunge to 4.8% from 14.6%, which means that 95.2% of [this company's technology] will remain dormant.
Within 12 months of publishing my skeptical report, the company's shares had plummeted nearly 100%.
For all of this company's internet-era promise, it had become just another overhyped flameout.
But, I predicted, "The company will survive and eventually thrive."
It did, indeed, survive. And now it will thrive.
At least that is my expectation. This company is finally on the verge of turning its dot.com-era hype into reality… and rewarding its shareholders in the process.
Secret Adviser to Billionaires Makes Surprising Prediction
It's no longer the one-trick pony company it was in 2000, when it generated almost three-quarters of its revenues from its internet cable technology. Today, the company operates five different business segments — each of which is beginning to benefit from powerful tailwinds.
Impressively, all five segments generated double-digit year-over-year revenue growth during the first quarter of 2021.
These results are beautifying both this company's income statement and balance sheet. As annual revenues and earnings per share approach record-high levels, the company's net debt is ticking lower. For four straight quarters, the company has trimmed its debt load.
These positive trends will likely gain momentum over the coming quarters, thanks partly to the tailwinds that are beginning to fill its sales.
The worldwide 5G build-out certainly tops the list of tailwinds…
5G Starts With This Technology
That's because 5G directly benefits the company's largest segment, which provides 5G cable hardware and related connectivity solutions to telcos, data centers and other enterprises.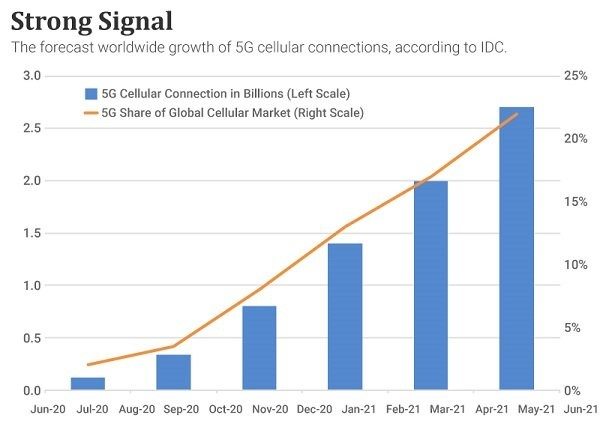 As the global 5G build-out proceeds, so too will demand for this company's. This substantial source of new demand could become shockingly large.
3G and 4G networks used relatively less of this company's technology compared to what 5G networks will become. 5G could require about 100 times more of the capacity this tech creates than 4G.
During an investor presentation in March, Verizon's (NYSE:VZ) Chief Financial Officer Matt Ellis stated that this sort of cable "serves as the critical backbone to our 5G deployment."
Watch Out, China: America Is Striking Back
Verizon Chief Technology Officer Kyle Malady followed up Ellis' statement by saying, "A 5G network is really a deep-fiber network with a bunch of small cells hanging off of it… We have an aggressive fiber build program in more than 60 markets."
Then in May, AT&T's (NYSE:T) CEO John Stankey outlined his company's plans "to invest in 5G and [this technology] to support the growing long-term demand for reliable high-speed connectivity." Stankey said AT&T would aim to double its footprint in this technology by 2025.
At the same time, many governments around the world are contributing to the 5G tailwind.
Between the Rural Opportunity Development Fund and the president's infrastructure plan, the White House is calling for more than $120 billion to bring high-speed internet to every American.
The United Kingdom recently launched the $6.9 billion Project Gigabit, which could bring next-generation broadband to more than a million hard-to-reach homes and businesses.
The European Commission is calling for a $160 billion effort to roll out rapid broadband services continentwide starting this year.
Add it all up… and that's easily a multibillion opportunity for this company.
Clearly, this company has come a long way from its woebegone post-dot.bomb days. The company now finds itself in the right place at the right time.
I just recommended this company in the brand-new Fry's Investment Report July issue, which I published just last Friday.
To learn how to get this company's name and ticker symbol… and my "Buy" instructions… as an Investment Report member, click here.
Regards,
Eric Fry
P.S. Can a "flaw" in the stock market predict 1,000% gains?
I recently shared an unusual discovery about why the stock market is far less random than you think…
…a discovery that led me to uncover a group of stocks on the verge of a sudden, powerful turnaround. Will this be the success story of 2021?
Click here to find out how to join.
NOTE: On the date of publication, Eric Fry did not own either directly or indirectly any positions in the securities mentioned in this article.
Eric Fry is an award-winning stock picker with numerous "10-bagger" calls —in good markets AND bad. How? By finding potent global megatrends… before they take off. In fact, Eric has recommended 41 different 1,000%+ stock market winners in his career. Plus, he beat 650 of the world's most famous investors (including Bill Ackman and David Einhorn) in a contest. And today he's revealing his next potential 1,000% winner for free, right here.
View more information: https://investorplace.com/2021/07/this-companys-shares-will-keep-climbing-as-the-5g-build-out-takes-off/