LCID Stock Won't Be This Cheap For Long, So Buy It While You Can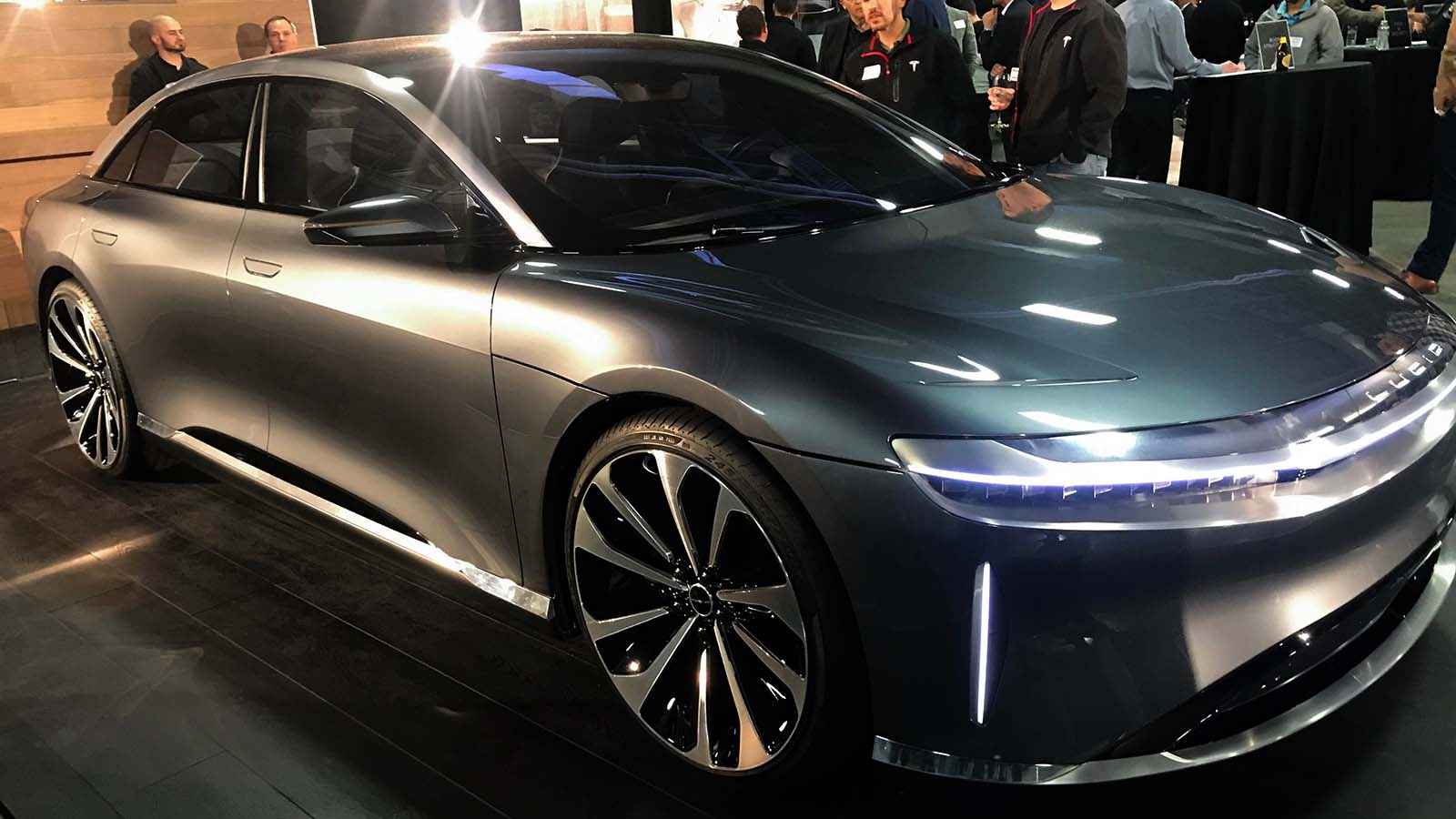 With its initial public offering (IPO) behind it and its first car sales due to begin this fall, now is a good time for investors to buy into electric vehicle maker Lucid Motors (NASDAQ:LCID) stock.
Investors hungry for gains and exposure to the fast-growing electric vehicle market should see the current price of LCID stock as a great entry point.
At around $22 a share, the stock is a bargain and sure to be much higher this time next year after its Lucid Air luxury sedan is on sale.
While it is true that the company is still technically a start-up, Lucid Motors is already at the production stage, putting it swell ahead of competing electric vehicle makers, many of whom are sketching out designs on restaurant napkins.
Once the cars start rolling off the production line, today's prices likely will be a thing of the past.
SPAC Fallout and LCID Stock
LCID stock has had a rough ride since the company went public on July 26 via a reverse merger with a special purpose acquisition company (SPAC).
After opening at $27 a share, the stock has fallen 13% to its current level of $23.47. Part of the decline can be attributed to the fact that Lucid Motors went public via a less traditional SPAC at a time when such deals have fallen out of favor among investors and Wall Street dealmakers.
Adding to the gut-punch for Lucid Motors has been a broader downturn in stocks of electric vehicle start-ups. In fact, Lucid Motors stock market debut followed a glut of IPOs by electric vehicle start-ups, including Fisker (NYSE:FSR), Lordstown Motors (NASDAQ:RIDE) and Nikola (NASDAQ:NKLA), and as investors seemed to become fatigued by the sector.
The fact that Nikola founder Trevor Milton has been charged with several counts of fraud seemed to underscore the risks of investing in unproven electric vehicle start-ups.
Big Market Opportunity
Investor sentiment aside, there remains a huge market opportunity in the electric vehicle space. Global electric vehicle sales are expected to rise from 3.1 million last year (2020) to 14 million by 2025, and to more than 60 million by 2040, according to the latest outlook from industry research firm BloombergNEF.
In Germany and China, electric vehicles are forecast to represent 40% and 25% of total automotive sales, respectively, by 2025.
Lucid Motors is well-positioned to capitalize. The company's Lucid Air sedan is scheduled to begin production this fall. A luxury electric vehicle that retails for $169,000 and can travel 500 miles on a single battery charge, the Lucid Air is seen by many analysts as one of the few real competitors to Tesla's (NASDAQ:TSLA) electric sedans.
The company has said that it has received more than 10,000 pre-orders for the Lucid Air. If all goes according to plan, Lucid Motors plans to begin selling the Air throughout Europe early next year (2022).
A second electric vehicle from Lucid Motors, an SUV called the "Gravity," is slated to enter production in 2023.
Bullish Investors and Outlook
While it's still a newly public company, Lucid Motors has gotten a vote of confidence from the investors it has been able to attract in recent years.
In 2018, Saudi Arabia's sovereign wealth fund invested in the company and today holds an ownership stake of more than 60%. Saudi Arabia's Public Investment Fund made a $20 billion profit on an investment of $2.9 billion when LCID stock debuted on the Nasdaq exchange.
While it's too early for Wall Street analysts to assess the company with ratings and price targets, many media and industry observers remain enthusiastic about Lucid Motors and the long-term prospects for LCID stock.
More than a few have noted that the company should distinguish itself in the increasingly crowded electric vehicle sector with its high-end luxury sedan and SUV.
It is instructive to note that the share price was as high as $64.86 earlier this year when Lucid Motors' plans to go public via a reverse merger with a SPAC were first announced.
Buy LCID Stock
Although it is by no means a slam dunk, LCID stock is attractive at its current price of under $25 a share. Investors would be smart to take a position in Lucid Motors before production on the company's Air sedan begins in the coming months.
While some investors were spooked when the company pushed back the start of production by about six months, Chief Executive Officer (CEO) Peter Rawlinson has made clear that the delay is to give Lucid Motors more time to perfect the quality of its electric vehicles.
That focus on quality could help to distinguish Lucid Motors' products, drive sales and push the share price to new heights. LCID stock is a buy.
Disclosure: On the date of publication, Joel Baglole did not have (either directly or indirectly) any positions in the securities mentioned in this article. The opinions expressed in this article are those of the writer, subject to the InvestorPlace.com Publishing Guidelines.
View more information: https://investorplace.com/2021/08/lcid-stock-wont-be-this-cheap-for-long-so-buy-it-while-you-can/