If Blockbusters Can't Save AMC Stock, What Will?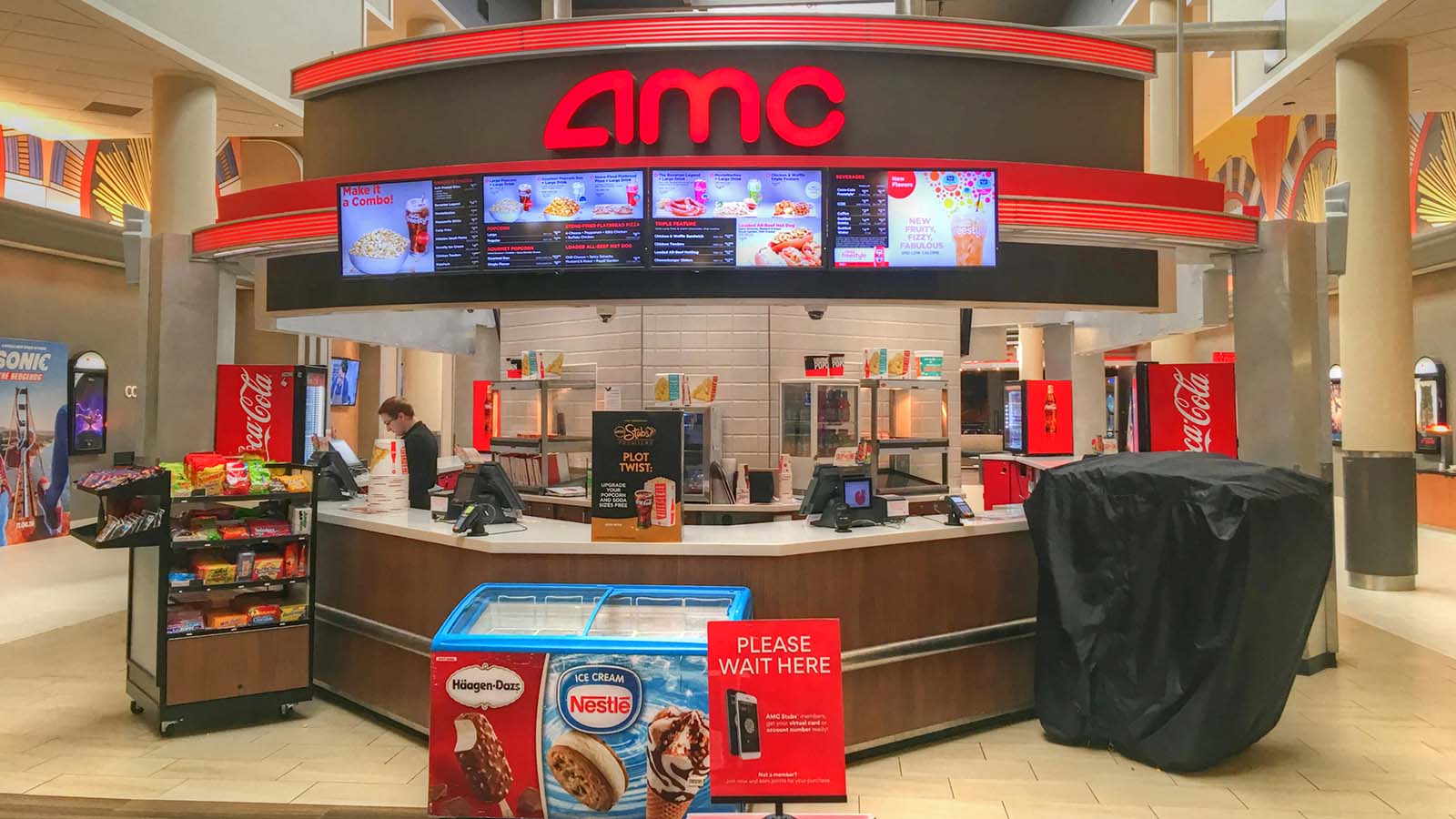 If I were to personally thank the meme-trading community for something, it would be for bailing me out of my position in AMC Entertainment (NYSE:AMC) stock.
I never thought that I would be whole again, let alone make a profit on AMC stock. However, the incredible enthusiasm that drove shares to ridiculous heights gave me the opportunity to exit handsomely.
I still have some AMC stock in my portfolio, with the idea that since I'm playing with house money at this point, shares might move even higher. After all, even I started to get convinced with the "apes together strong" mantra. No, I'm not scouring social media for ideas. However, I thought it wasn't completely unrealistic that the crowd could convince others to pile into the equity unit.
Alas, it seems like the magic carpet ride in AMC stock is coming to an end. While I'm not going to speak with absolute conviction, its technical posture does not look appealing. Take it from someone who has a clear financial interest in the cineplex operator – from an ethical and objective point-of-view, I cannot say that the long trade isn't without serious risks.
A Personal Take on AMC Stock
Recently, I decided to see for myself what the return to normal looks like as a moviegoing customer. I watched what is one of the most anticipated films this year, Black Widow, at a local AMC Theatres.
Aside from the conspicuous signs of mitigation requests – hand sanitizer stations, for instance – most things looked normal. From what I could tell, the concession stand was fully open: you just go and order your food like you did before the pandemic. Apparently, some cineplex operators use a mobile-app-based pickup service but I did not observe that during my visit.
About the only thing that was a little bit off in terms of service was that some employees seemed rusty, which is completely understandable. In a way, we're all trying to figure this out together so there's no need for a nasty Yelp (NYSE:YELP) review.
But the main problem I see moving forward for AMC stock is the underlying consumer demand. Granted, this is my personal observation – and I will get to the hard facts shortly. But when I went to visit on a Friday night, the crowd was buzzing but only in the context of the post-pandemic paradigm. Compared against pre-pandemic norms, it was noticeably dead.
That's a major concern for AMC stock because I went to watch a Disney (NYSE:DIS) film based off its Marvel Studios franchise. If there's anything that should bring in the crowds, it would be Black Widow. You have two very relevant, A-list celebrities leading the charge under a brand that continues to churn out hit after hit.
Plus, society has been starved for social experiences following the novel coronavirus-fueled lockdowns, sparking "revenge shopping" or the explosion of consumer spending after being denied for a one-year period.
It just wasn't happening this time around.
Is the Nature of Cinema Changing?
Could it just be I just happened to watch at a dead time in the cinematic calendar? Absolutely. It doesn't help that I don't live in the biggest market. As well, you should never base your investment decision on a single person's anecdotal observation.
But what's an absolute fact is that the cineplex industry needs to start shifting into higher gear soon if wants to get back to the old normal or at least a sustainable normal.
According to BoxOfficeMojo.com, during the domestic opening weekend (July 9 through July 11), Black Widow generated only $80.4 million. That's a great figure for the post-pandemic paradigm. However, compared to 2019's release of Avengers: Endgame – which included the Black Widow character – $80 million is a drop in the bucket. On Avengers domestic opening weekend, it hauled in over $357 million.
By the way, for the global opening, the latter flick grossed $1.2 billion.
Moving forward, the question for AMC stock is, will Hollywood succeed in bringing people back to the big screen? I didn't think I'd say this but I'm getting skeptical. Look, we're not talking about some indie art house film centered on the social uprising in 1968 in Paris, France. Instead, Black Widow is a marquee blockbuster – a type of movie that would convince even Netflix (NASDAQ:NFLX) zombies to get off their couch.
Bottom Line
But for right now, it seems the comeback narrative is struggling. Unless you're a speculator, I'd pass on AMC stock. And don't let my ownership of it trip you up. Again, I'm playing with house money. You might not be.
On the date of publication, Josh Enomoto held a LONG position in AMC. The opinions expressed in this article are those of the writer, subject to the InvestorPlace.com Publishing Guidelines.
A former senior business analyst for Sony Electronics, Josh Enomoto has helped broker major contracts with Fortune Global 500 companies. Over the past several years, he has delivered unique, critical insights for the investment markets, as well as various other industries including legal, construction management, and healthcare.
View more information: https://investorplace.com/2021/07/if-blockbusters-cant-save-amc-stock-what-will/