Hey BB Stock Fans, It's Time to Kinda Ignore Reddit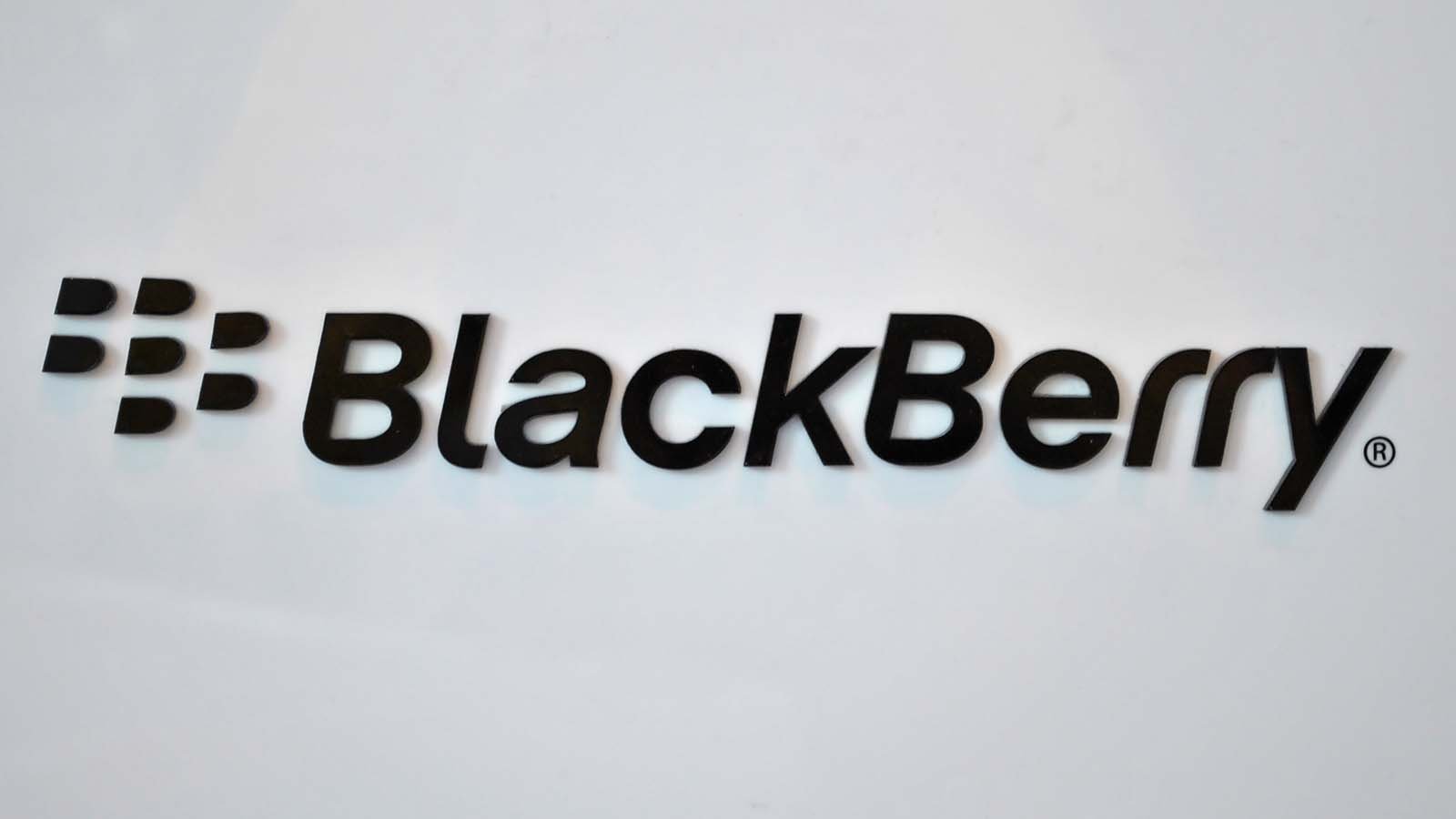 It's kinda, sorta known as a Reddit stock these days. But when it comes to Blackberry (NYSE:BB), can BB stock shed its reputation, as well as past fumbles, to score profits for investors to win longer term?
Let's see what's happening off and on the price chart of BB stock, then offer a risk-adjusted determination aligned with those findings.
It was better than the next, next big thing. It was simply "the thing" back in the day. Briefly. I'm talking about BB, its wildly popular mobile device and one made more prominent by 24/7, hand-to-ear businessmen and women that took to Blackberry's first-generation smartphone like flies on a rib roast.
Then along came Apple (NASDAQ:AAPL) and its first iPhone in 2007. The rest of course, is history.
BB Stock and Recent History
More recently, another surge of notorious interest has overtaken Blackberry. In early 2021, BB stock was once again being celebrated hand over fist. This time, however, it was at the hands of Redditors and faster money investors plying their muscle on WallStreetBets.
Short interest at the time of around 8% helped the cause. And the net cause took BB shares from around $6.50 in early January to a high of nearly $29 in less than three weeks. Blackberry gained admission into an infamous meme trade headlined by very heavily-shorted stocks GameStop (NYSE:GME) and AMC (NYSE:AMC).
Today, Reddit's grown slightly more discriminating or found its brand of influencing shares takes a bit more effort to rally its band of merry marauders. And for BB and it's steady-as-she-goes and fairly ho-hum short interest that's still stationed near 8%, the "all aboard" call has fallen short of getting the troops fully back onboard.
What's happened over the past few months in BB isn't necessarily a bad thing, though. Shares are still up just over 100% on the year at $13.50 and sport a $7.7 billion mid-cap valuation. That has to count for something, right? Maybe so.
Other Investors Show Interest
While Reddit has unsurprisingly devalued its interest in BB stock, today's market price is the type which puts the stock on the radar of other investors interested in items other than a fleeting fast money situation.
What's more, there are other positives for today's BB stock, which could allow for big-time profits for shareholders interested in the long game of investing.
It's no secret Blackberry's smartphones have long since gone the way of dial-up internet or Tickle Me Elmo and other obsolete products. But the company has pivoted from tech hardware into cloud-based software for cybersecurity, autonomous autos, Internet of Things (IoT) applications and other burgeoning markets. The aim is restoring growth. It's exciting.
In all fairness, it's still about the future for Blackberry's transition. Red ink persists. As well, there's competition which can't be discounted. This includes the likes of much larger tech outfits Microsoft (NASDAQ:MSFT) and Alphabet (NASDAQ:GOOGL) among others. But BB does already have an ally in Amazon (NASDAQ:AMZN) for its venture into software for connected vehicles.
Amazon. That's a start, right? And having shown great success once already, maybe Blackberry won't fumble the ball if it can prove itself as a turnaround play? Maybe.
BB Stock Monthly Price Chart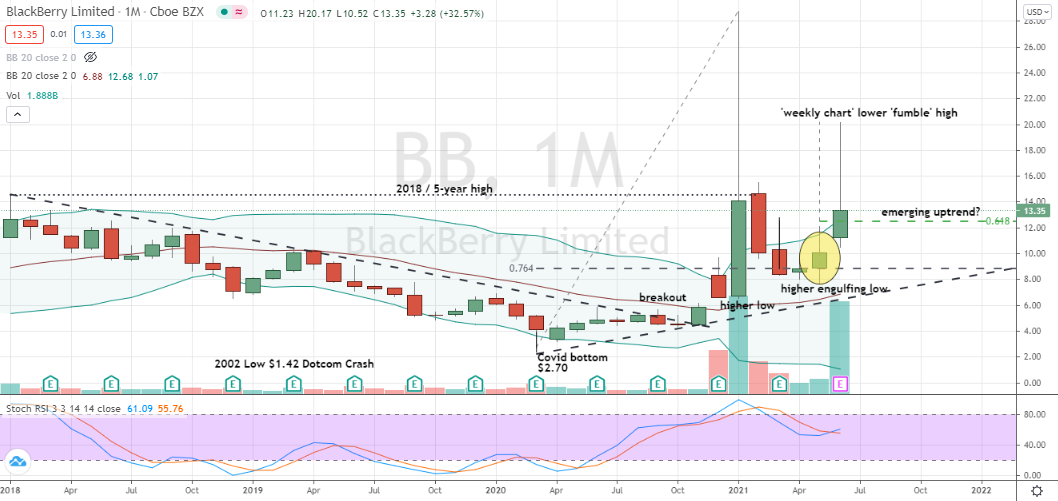 Source: Charts by TradingView
It's a wait-and-see proposition whether Blackberry can pick up its business bootstraps, win over new customers and whose quarterly results can delight. Investors will have their latest peek in that direction next week when the company releases earnings.
On the BB stock chart though, if one can appreciate a stock's zigs and zags as determining future price action, one man's or more aptly, quite a few Redditors fumbling, looks like other investors' opportunity to score future profits today.
Technically and on the provided monthly view of BB, earlier this month, shares attempted to make a new higher-high pattern relative to January's peak valuation. On the weekly timeframe, it's a certain fumble courtesy of a lingering Reddit crowd. But as the monthly perspective also reveals, June's candlestick is now in solid position to be picked up on weakness.
A developing uptrend remains intact on the monthly chart. Moreover, the weekly fumble simply constitutes a pullback into an area of support. Right now, shares are successfully challenging the 62% retracement level. And, BB stock's most recent engulfing pivot low formed within an emerging bullish price cycle.
Also, Blackberry's monthly stochastics are signaling a bullish crossover in neutral territory. With earnings on the horizon, there's time and potential reason for other bulls to get involved. They could make yesterday's fumble, tomorrow's victory lap in BB stock.
The Options Move
Time will ultimately tell what happens in BB. But I like Blackberry as a promising pre-earnings play and perhaps as the kind of stock setting up for much bigger things down the road.
Today and for likeminded optimists, a July $15/$18 bull call spread or Weeklys 30 July $12.50/$20 collar are two well-positioned ways for investors of slightly different stripes beyond how Reddit plays the game, to gain meaningful and risk-adjusted exposure to BB stock.
On the date of publication, Chris Tyler did not have (either directly or indirectly) any positions in the securities mentioned in this article. The opinions expressed in this article are those of the writer, subject to the InvestorPlace.com Publishing Guidelines.
Chris Tyler is a former floor-based, derivatives market maker on the American and Pacific exchanges. For additional market insights and related musings, follow Chris on Twitter @Options_CAT and StockTwits

View more information: https://investorplace.com/2021/06/hey-blackberry-fans-its-time-to-kinda-ignore-reddit/