For Bullish Investors, the Wait Is Over in BABA Stock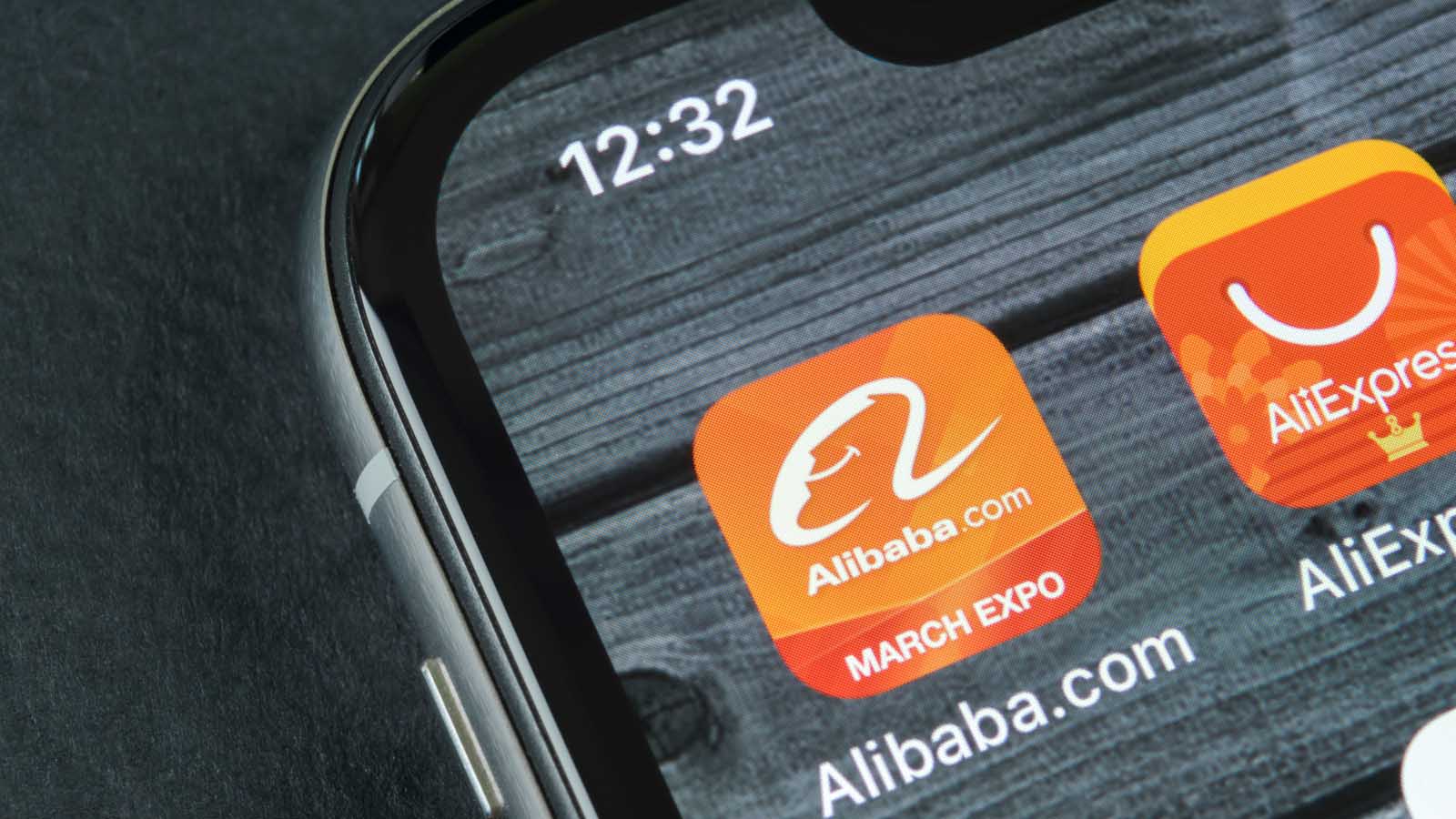 Investors have paid the price in recent months in Alibaba (NYSE:BABA). But with that same challenging price action now favorably shaping up and the cost paid by the company a good deal less punishing, it's time to consider a bullish collar strategy today. Let me explain.
Diversified tech giant Alibaba and a company frequently referred to as China's Amazon (NASDAQ:AMZN) for its remarkably similar business tendrils, has nevertheless proven a challenging investment since hitting an all-time-high in late October.
Right now and fetching around $241.50, a bear market correction has stripped roughly 24% off Alibaba. And at its worst in late December, shares had shed 34% from their high of $319.32.
Good News
The good news? Moving forward, BABA's bearish days appear to be over based on the latest information.
On Monday, Alibaba was slapped with a $2.8 billion fine from China's anti-monopoly regulator, the State Administration for Market Supervision or SAMR. An awful-sounding name aside, the news from SAMR was far from terrible. In fact, it was much better-than-feared.
In a nutshell, Alibaba received notice of an investigation by the agency back in late December. In response to the initial news, panicked investors sent BABA shares tumbling 13% while destroying roughly $100 billion in shareholder value. But SAMR's just-announced judgment amounts to a simple slap on the wrist.
The reality is the $2.8 billion penalty is less than one month's worth of profits based on BABA's most recent quarterly net income. As much and coupled with misplaced worries Chinese authorities might use Alibaba as a lesson for others, investors reacted by sending shares of Alibaba up 9.27% into Monday's closing bell.
In a statement, Alibaba said the company is "committed to ensuring an operating environment for our merchants and partners that is more open, more equitable, more efficient and more inclusive in sharing the fruits of growth." Moreover, today there's now more chance for shareholders to profit based on the evidence off, as well as what's happening on the BABA stock price chart.
BABA Stock Weekly Price Chart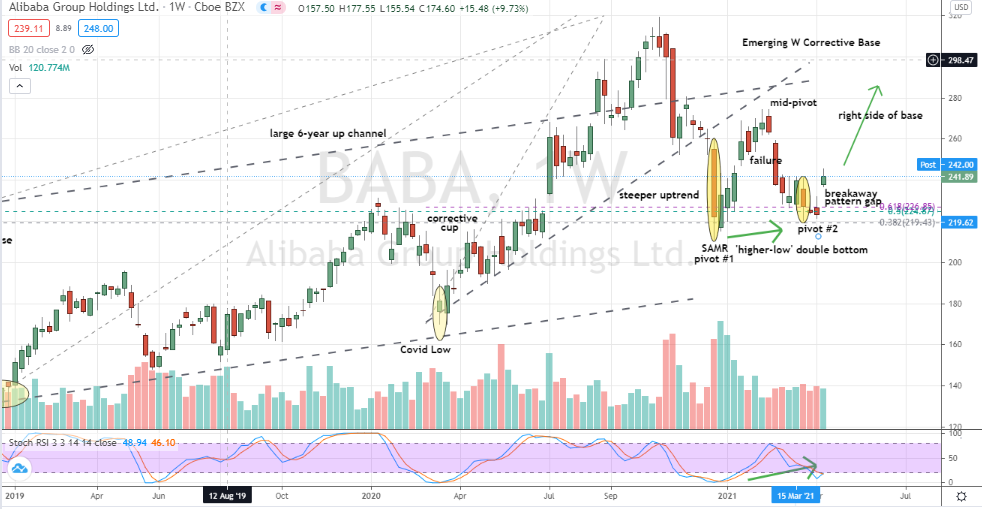 Source: Charts by TradingView
All stocks, even the best stocks such as Amazon or an Apple (NASDAQ:AAPL), routinely correct. And this type of price cycle often occurs after a decent rally. For a growth stock of BABA's caliber, corrections can and often lead to declines of about 30%. And that's in a healthy market environment.
Alibaba's decline of 34% into late December and following this past year's novel coronavirus rally of nearly 90% certainly checks off those boxes. What's more, technically and confirmed this week, BABA stock has an extremely favorable-looking higher-low, double-bottom pattern to position off.
Complemented by a bullish stochastics crossover in oversold territory and backed by Fibonacci support, a bullish but highly adaptable stock collar on BABA shares looks appropriate for core portfolio positioning. One favored spread of this type is the May $245 put/$265 call combination.
Bottom Line
Bottom line, I'd like today's pattern entry to carry shares into the right side of an emerging "W" style base. I've detailed that on the provided weekly BABA stock price chart. From there, a mid-pivot breakout to further validate the pattern and pad the P&L would be great. Maybe that will require an earnings catalyst in late May, but one that's still unconfirmed?
And from there? A breakout through BABA stock's pattern all-time-high would be even more terrific. Still and rather than just having wishful thinking and good-looking conditions to lean on, having an ironclad position capable of coming up victorious in both bull and bear markets is always the favored trade.
On the date of publication, Chris Tyler does not hold, directly or indirectly, positions in any securities mentioned in this article.
Chris Tyler is a former floor-based, derivatives market maker on the American and Pacific exchanges. The information offered is based on his professional experience but strictly intended for educational purposes only. Any use of this information is 100%  the responsibility of the individual. For additional market insights and related musings, follow Chris on Twitter @Options_CAT and StockTwits.

View more information: https://investorplace.com/2021/04/why-the-wait-is-over-in-alibaba-stock/