CLNE Stock: Clean Energy Fuels Faces the Meme Stock Challenge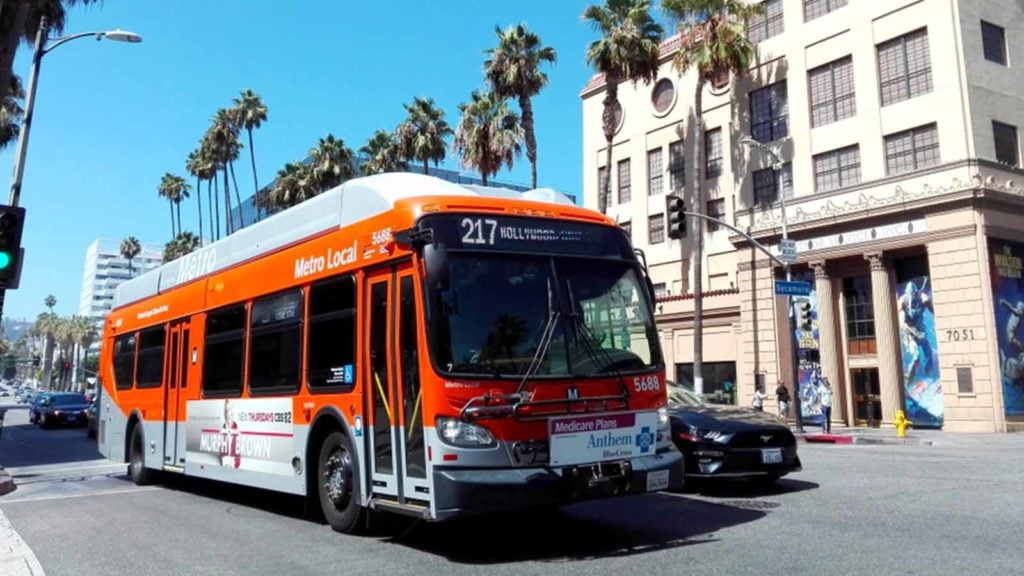 Today, it's of smaller value for a prominent group of traders. But for other investors looking at Clean Energy Fuels (NASDAQ:CLNE) a bit differently, CLNE stock may have have something more under the hood longer-term. Let's look at what's happening off and on the price chart of CLNE, then offer a risk-adjusted determination aligned with those findings.
Love them or leave them. I'm referring to Redditors or meme-trading apes as they're increasingly known these days. They're a thing in today's market with GameStop (NYSE:GME) and AMC (NYSE:AMC) the group's most vilified and celebrated stock trading schemes.
Yet while the group's predilection toward easier-to-manipulate heavily shorted or lower-priced, lesser-followed stocks and aggressive trading tactics have their share of critics, other value may sometimes be uncovered. CLNE stock may be one such situation.
CLNE Stock and the Apes
This past month amid impressive price spikes in AMC, GME and other popular ape favorites such as Workhorse (NASDAQ:WKHS) and Virgin Galactic (NYSE:SPCE), Clean Energy Fuels CLNE stock was, by one measure, top banana.
During the first half of June, CLNE's Reddit chatter on WallStreetBets was clearly on the rise. In fact and impressively, recognition spiked as high as almost 500 taunts, gifs, plugs, memes, egging-on and other honorable and mischievous mentions per hour. It doesn't get much louder than that. And as with other select meme stocks receiving similar significant favor, it worked. Briefly.
From June 1 to June 9, CLNE shares jumped from about $8 to $14.50. A day later, the 80% return could be purchased nearly 30% cheaper for less than $10.50 at its lows. And alongside continued digital jabs by Redditors, volatile ups and downs in CLNE stock which were clearly at odds with the Efficient Market Hypothesis persisted for a handful of sessions.
Today, with ape chatter having dried up, shares have resolved to sink further under their own weight. In Monday's first-half, CLNE was off by 6.50%, hitting four-week lows near $9.30 and putting the 76% Fibonacci retracement level into play.
The Mid-Cap Question
The million or rather $2 billion dollar question for investors beyond a quieted Reddit community is whether CLNE stock can hold onto and improve its status as a mid-cap company? Hopefully.
Clean Energy Fuels holds appeal for investors' wallets and for that matter, Earth as we know it. CLNE's renewable natural gas (RNG) is a transportation fuel made from dairy waste. This organic methane-emitting material compares well to gas from dirty, finite and ecologically damaging fossil fuel.
RNG's carbon footprint is much greener than the competition. And it's here today, not some far off vision of what's possible. And already CLNE's pioneering RNG initiatives turned it into North America's largest RNG transportation provider with more than 25,000 commercial vehicles on the road.
Bottom line, Clean Energy Fuels is taking the type of action necessary if we're going to successfully combat climate change. But don't take my word for it (or those you might find posted on WallStreetBets by Reddit's hit-and-run ape population). Take an 800-pound gorilla's.
CLNE's efforts also caught the eye of InvestorPlace's resident growth overlord Louis Navellier.
Louis sees CLNE stock as an investment with considerable promise given its full-press pivot into RNG, as well as decent financials supporting Clean Energy Fuels as something more than just another meme stock.
Bearing that in mind, I'm upbeat CLNE stock can get past today's Planet of the Apes environment and find its way to a more sustainable tomorrow. Before that happens though, the price chart is bearishly flexing its muscle and worth paying attention too.
CLNE Stock Weekly Price Chart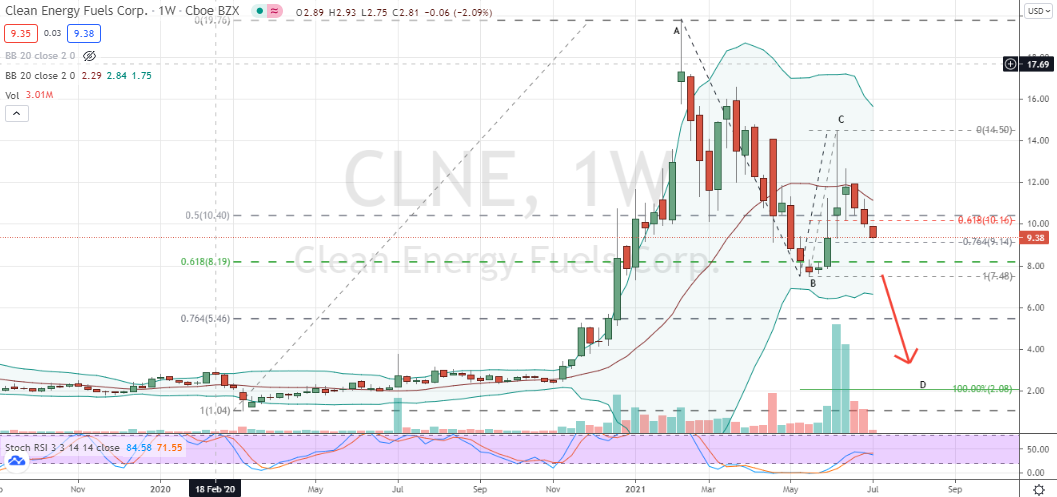 Source: Charts by TradingView
If there's going to be more bullish price action than June's weak sequel relative to early February's high near $20 in CLNE stock, the price chart has a great deal of work to do first. Worse yet, the illustrated weekly chart of CLNE hints significant downside risk exists.
Technically, a two candle inside pattern confirmed a topping pattern at "C" last week. Along with a bearish stochastics crossover, Monday's follow-through and failure of 62% support sets up the possibility of a two-step or mirror move bearish pattern being in play.
If the two-step pattern is fulfilled, today's CD leg will match leg AB and find CLNE stock trading near late 2020's share price of around $2. Will it? Again, it's a $2 billion dollar question with no certain answer as stock charts are simply guides, not absolutes.
The Trade
For unafraid, longer-term investors wanting admission to Clean Energy Fuels while Planet of the Apes theater remains a thing on Wall Street, a hedged longer-term collar on CLNE stock looks about right.
If the Reddit crowd goes really bananas again in the near term, great! Collars are bullish. But this type of defined and reduced risk spread is also highly adaptive. And it is a great way to smartly accumulate a core holding without equal.
On the date of publication, Chris Tyler did not have (either directly or indirectly) any positions in the securities mentioned in this article. The opinions expressed in this article are those of the writer, subject to the InvestorPlace.com Publishing Guidelines.
Chris Tyler is a former floor-based, derivatives market maker on the American and Pacific exchanges. For additional market insights and related musings, follow Chris on Twitter @Options_CAT and StockTwits.

View more information: https://investorplace.com/2021/07/clne-stock-clean-energy-fuels-faces-the-meme-stock-challenge/