A Breakout Indicator for Gold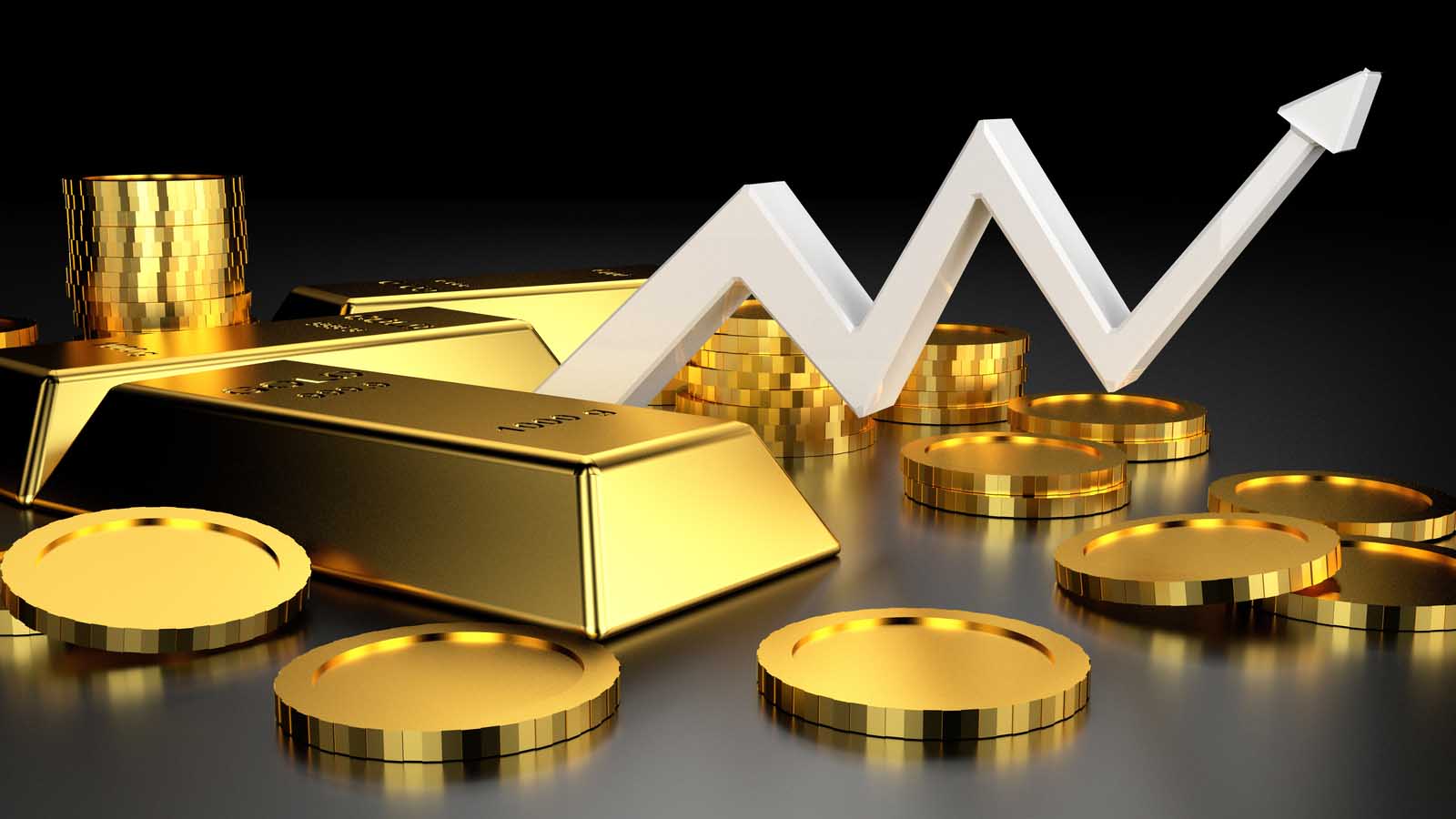 Inflation hits the highest level in 13 years… the rate is wildly overshooting Fed members' original targets… gold appears poised for a big move
The highest inflation rate in 13 years…
On Friday, we learned that June's year-over-year inflation rate came in at 4%. That's the highest level since 2008.
It also happens to be double the Fed's stated goal of 2% inflation.
For some context on this 4% number, let's rewind to last summer.
About twelve months ago, Dallas Fed President Robert Kaplan said he would be comfortable with inflation running a "little bit" above the 2% inflation target if the economy were to return to near full employment.
From Reuters:
"And for me, a little bit means a little bit," or about 2.25%, Kaplan said during an interview with Bloomberg TV. "I still think price stability is the overriding goal and this framework doesn't change that."
St. Louis Fed President James Bullard was open to slightly higher inflation.
From Bullard:
Inflation has run below target, certainly by half a percent, for quite a while, so it seems like you could run above for a half a percent for quite a while.
That would have meant a 2.5% inflation rate. (Plus, you have to love the "it seems like" from Bullard, which doesn't exactly inspire confidence.)
Then there was Philadelphia Fed President Patrick Harker, also pointing toward an acceptable overshoot of a 2.5% inflation rate, but suggesting that the speed at which we got there was the real issue.
Here was his take:
It's not so much the number… It's really about the velocity.
Harker suggested that inflation "creeping up to 2.5%" is quite different than inflation "shooting past 2.5%."
Umm…so, how about an inflation rate that doesn't "creep" up to just 2.25% or 2.5%, but explodes up to 4%?
***Fed Chairman Powell has been preaching a message of "transitory" inflation for months
And there is certainly some logic to this narrative.
Supply chain bottlenecks that result in limited supply of various goods will naturally result in higher prices. That's true – and this source of inflation should be transitory as supply chains return to normal.
But what about the trillions of new dollars sloshing about the economy today?
Inflation, boiled down, is simply too many dollars chasing the same volume of goods. Sure, we've had a reduced supply of goods due to the pandemic/supply chain issues, but even if we return to full supply, it won't erase the trillions of new dollars that have been created.
So, we'll still have an imbalance in the whole "dollars-to-economic productivity" relationship that impacts inflation.
By the way, here's how those "trillions of new dollars" look. It's the M2 Money Stock. I've circled what's happened since the pandemic. Is that going to suddenly disappear once supply chains normalize?
The reality is that Powell doesn't really know how this grand experiment is going to play out.
From the Wall Street Journal:
"We've identified a half dozen things" that "look very much like temporary factors that will abate over time. What we don't know is are there other things coming along to replace them?" said Mr. Powell.

"We won't have to wait a tremendously long time, I don't think, to know whether our basic understanding of this is right."
Now, we don't claim to know how all this will work out either. The scope of our government's currency creation is unprecedented. But what we're seeing does not bode well for the U.S. dollar.
As we've noted many times here in the Digest, protecting your wealth in light of these uncertainties means moving outside of the dollar into assets that will better retain their value. We've suggested high-quality stocks, real estate, and cryptocurrencies as just a few possibilities.
But what about the original inflation protector…gold?
Well, as any goldbug will tell you, the yellow metal has been doing a lot of nothing for a year now.
But that could be about to change…
***Gold's compression pattern suggests a big move is coming
Regular Digest readers are familiar with our CEO, Brian Hunt.
That's because, beyond helming InvestorPlace, Brian is an accomplished teacher, having penned a series of essays that reads like a master's course in investing. We've featured many here in the Digest, and you can read them all for free in our InvestorPlace Education Center.
Brian also happens to be a highly-successful trader. That's why I paid close attention to an internal email he sent last week.
From Brian:
Don't look now, but gold is compressing into a wedge.

More often than not, wedges resolve themselves in the direction of the primary trend.

If I hadn't seen this pattern produce so many winners with such consistency, I probably wouldn't care about it. But I have so I do and I'm long.

Then there's that whole "printing staggering amount of money" thing.
Below is a chart of gold's market price showing the wedge pattern that Brian identified.
Also, note the bottom pane of the chart. It features the readings of an indicator called Average True Range (ATR).
ATR is a volatility indicator. It shows how much an asset or security is moving up and down in a given time frame. Higher ATR readings are higher volatility readings, and vice versa.
As you can see in the chart, gold's ATR has been trending lower. Gold's volatility has "compressed."
A study of market history shows that assets often make strong moves after going through periods of compressed price action and compressed volatility.
And as Brian noted, since the recent, primary trend is up, the odds favor a breakout to the upside.
I'll add that gold popped 2% at the end of last week before some profit-taking over the weekend. Plus, if you look at the ATR pane in the chart above, you can see the slightest reversal north of the trend-line.
Now, this is no guarantee that gold is about to make a major move. Its price is still within its wedge pattern. But if you're looking for an attractive risk/reward trade setup, this is it.
***By the way, it was all the way back on June 12, 2019 that we identified a similar wedge pattern in gold and wrote about it here in the Digest
And how'd that play out?
Gold climbed 55%, topping out in early August of 2020.
While nothing is certain with investing, we think a bullish move is coming here.
We'll keep you updated how it turns out here in the Digest.
Have a good evening,
Jeff Remsburg
View more information: https://investorplace.com/2021/08/a-breakout-indicator-for-gold/