3 Large-Cap Tech Stocks Breaking Out AAPL SHOP TSLA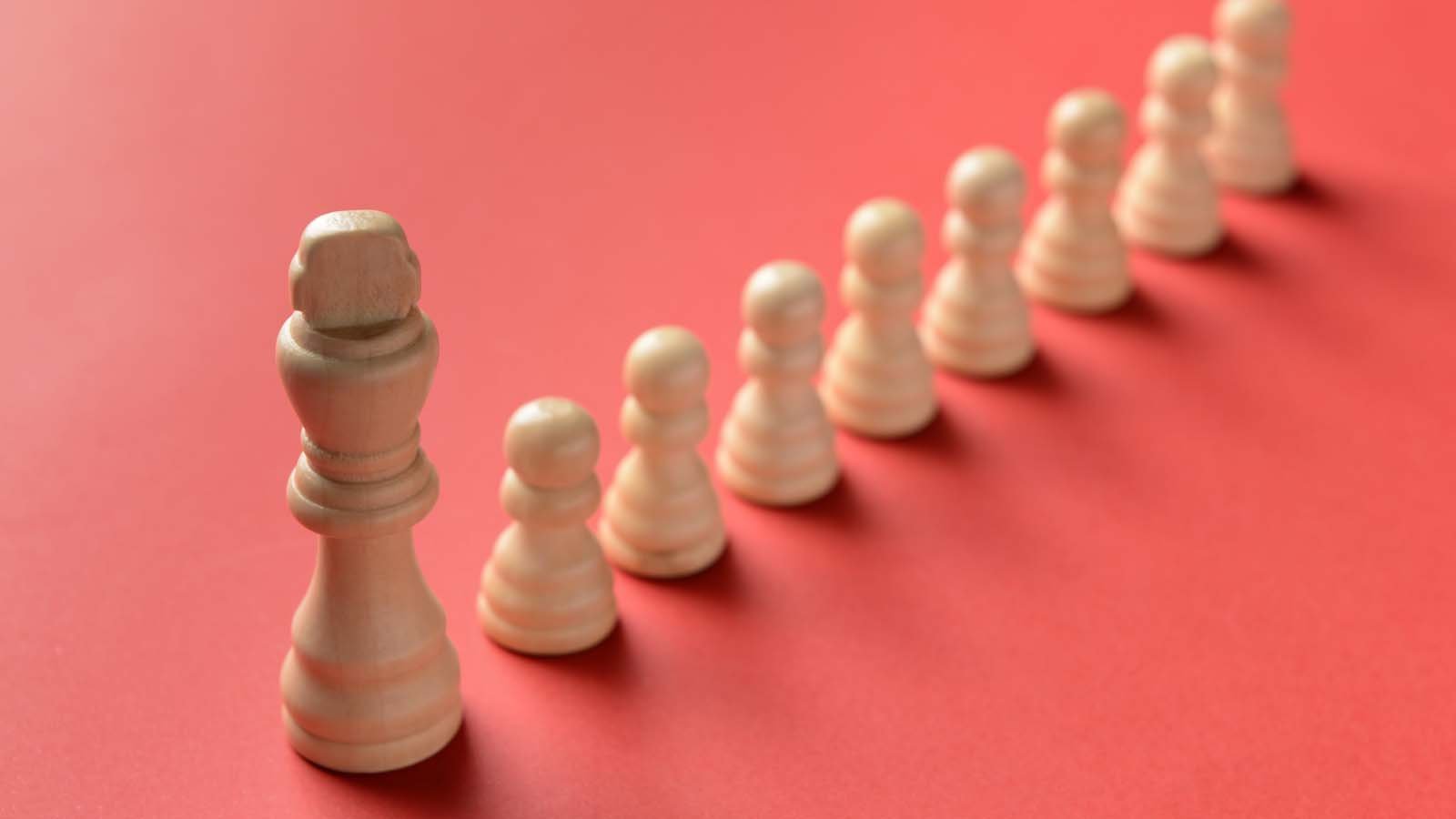 We're midway into the trading week, and it has proven a relatively stifling few days for many bullish investors. But for those who appreciate the stock market's tendency to rhyme, promising monthly price chart breakouts in three large-cap tech stocks suggest another Roaring '20s period is just getting started.
Some investors are sweating over the varied and fractional whereabouts of the blue-chip Dow Jones Industrials and the broad-based, large-cap S&P 500. It's fair to say it feels like the dog days of summer on Wall Street during this first week of August.
But don't make the mistake of writing off the market just yet — or anytime soon for that matter. And certainly don't write off large-cap tech stocks.
Amid this week's lethargic price behavior, the tech-heavy Nasdaq Composite is showing signs of history rhyming in a very good sort of way — not unlike the Roaring '20s bull market which followed the Spanish Flu early last century.
Technically and appreciatively, a four-month stretch of relative and even absolute weakness stretching from late February to late June has given way to a healthy-looking corrective base breakout to all-time-highs in the Nasdaq.
And today, out of that much-needed price consolidation, the Nasdaq is doing it again.
This week the large-cap tech stock index is quietly up by a leading 1%. What's more, the bullish price action is occurring within a six-week high-handle pattern which has successfully tested the prior base for support.
Bottom line, feel free to listen to the Fed's latest mumblings on interest rate policy. But if you're smarter than buying into a storyline promoting a gridlocked and muddled Dow Jones and S&P 500, you'll take your cue from monthly breakouts in three large-cap tech stocks leading the way to less ambiguity and big profits for bullish investors.
Apple (NASDAQ:AAPL)
Tesla (NASDAQ:TSLA)
Shopify (NASDAQ:SHOP)
Large-Cap Tech Stocks: Apple (AAPL)

Source: Charts by TradingView
The first of our large-cap tech stocks breaking out is Apple. The world's largest company is set to improve on its $2.4 trillion valuation following its recent better-than-forecast earnings and a monthly chart allowing investors to buy AAPL stock at well-supported prices.
Technically, profit-taking after the report because of sales growth concerns has taken shares down to test Apple's prior all-time-high, and a cup-shaped base formed within its bullish up-channel.
With earnings risk out of the way and a bullish stochastics crossover to assist this tech stock's chart setup, I'm favoring a partially hedged, modified AAPL collar. Buy AAPL stock, short the Sep $165 call and remove a sizable chunk of immediate downside risk by purchasing the Sep $145/$135 put spread.
Tesla (TSLA)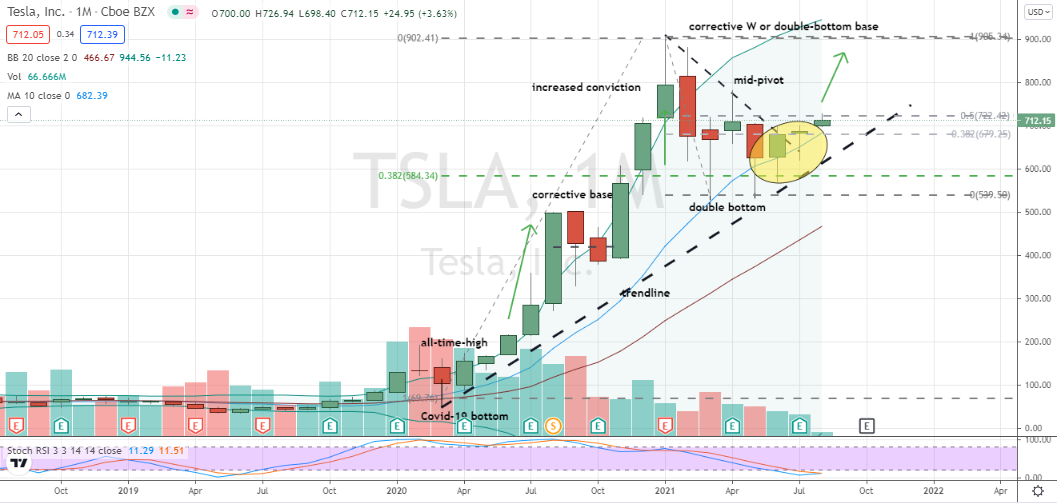 Source: Charts by TradingView
The next of our large-cap tech stocks breaking out are shares of Tesla. TSLA's breakout is a bit different than the one in AAPL stock, but it's equally promising.
Last week's earnings release saw the EV giant deliver more than $1 billion in net income during its second quarter. Nice, right? It is, but to be fair that tenfold improvement hasn't been lost on investors either. Shares of Tesla are up around 140% over the past year.
Still, looking at the price charts, TSLA stock does appear ready to motor higher.
Technically, as the monthly chart reveals, shares are trading narrowly above a confirmed hammer bottoming candlestick after confirming a two-month-long inside consolidation pattern.
With TSLA stock also breaking through downtrend resistance in a larger corrective base and stochastics on the cusp of a bullish crossover in oversold territory, it's a great time to go long this tech stock.
To make it a real gift, the Dec $750/$900 call vertical looks even better as a way to go long TSLA!
Large-Cap Tech Stocks: Shopify (SHOP)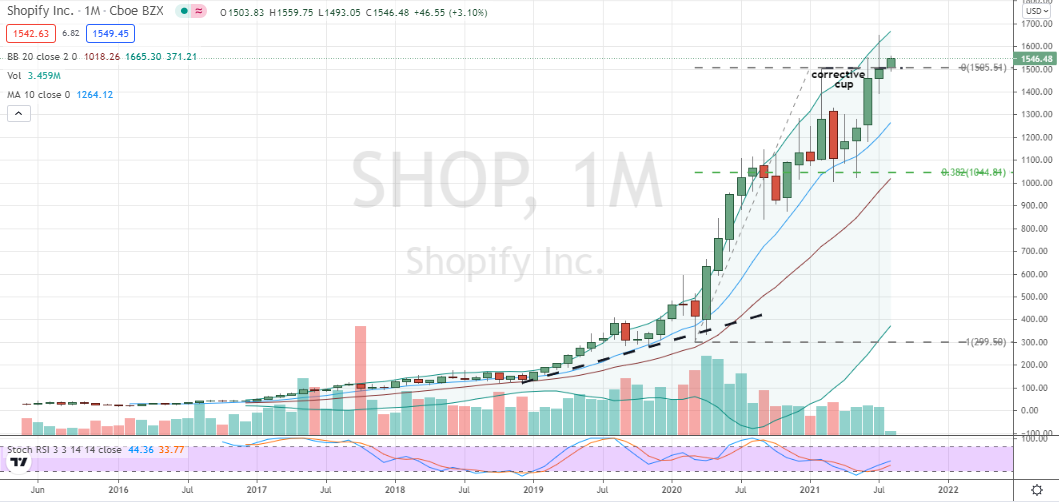 Source: Charts by TradingView
The last of our large-cap tech stocks breaking out is Shopify. The comprehensive merchant platform dazzled with SHOP stock's latest growth-filled, quarterly results. And today, investors are being offered the opportunity to shop more smartly.
Modest profit-taking following SHOP's earnings report is allowing investors to buy this tech stock off a challenge of SHOP's recent corrective cup breakout and former all-time-high.
The bullish monthly chart is improved with SHOP's properly aligned stochastics in neutral territory and a trending Bollinger Band that shows no signs of flattening.
To shop as a bull with less fear of running into a broken cup pattern, the Oct $1,600/$1,700 bull call spread looks like a winning investment both off and on the price chart.
On the date of publication, Chris Tyler does not hold (either directly or indirectly) positions in any securities mentioned in this article. The opinions expressed in this article are those of the writer, subject to the InvestorPlace.com Publishing Guidelines.
Chris Tyler is a former floor-based, derivatives market maker on the American and Pacific exchanges. For additional market insights and related musings, follow Chris on Twitter @Options_CAT and StockTwits.

View more information: https://investorplace.com/2021/08/3-large-cap-tech-stocks-breaking-out/